Disclosure: This post may contain affiliate links, which means I may receive a small commission if you click a link and purchase something. Please check out my disclosure policy for more details. All opinions are my own!
When I first became a mom almost six years ago, one of the last things on my mind was natural, non-toxic shampoos and body washes for my baby. I just assumed the age-old Johnson & Johnson Baby Shampoo our parents used on us years ago was completely safe; why wouldn't it be? It's a baby shampoo, after all. However, it includes a number of cancer-causing chemicals — something I was completely unaware of. It's not uncommon to find seemingly "safe" products for kids and babies to be riddled with parabens and phthalates. But what are parabens and phthalates? Great question.
Parabens
Parabens are a type of preservative used to prolong the life of cosmetics, food and medicines. The problem with them is they mimic estrogen, so they can lead to breast cancer, as well as being likely to disrupt activity in the reproductive system. This leads to infertility issues in both women and men.
Phthalates
Phthalates are "plasticizers"; in other words, they make plastics more flexible. Unfortunately, they also cause problems within the reproductive system and disrupt the endocrine system, and can also lead to birth defects. These chemicals are often found in nail polish and hair spray and are also hidden as "fragrance" on ingredient labels.
Both parabens and phthalates are deemed safe in small amounts by the FDA and can be used in our personal care products; however, the question becomes whether or not the repeated exposure to and build-up of the chemicals does lead to long-term harm.
So what's a momma to do?
As moms, we only want to protect our little ones — but sometimes it can be confusing and seemingly expensive to switch over to the non-toxic personal products on the market. If you're interested in checking out how the shampoos you're currently using rate, check out the EWG – Environmental Working Group, where you can type in your brand and view its rating. But if you find yours doesn't make the cut, here are five completely safe shampoos to use on your little one that won't break the bank — all for under $10!
Shea Moisture Raw Shea Butter Chamomile & Argan Oil Baby Head-to-Toe Wash & Shampoo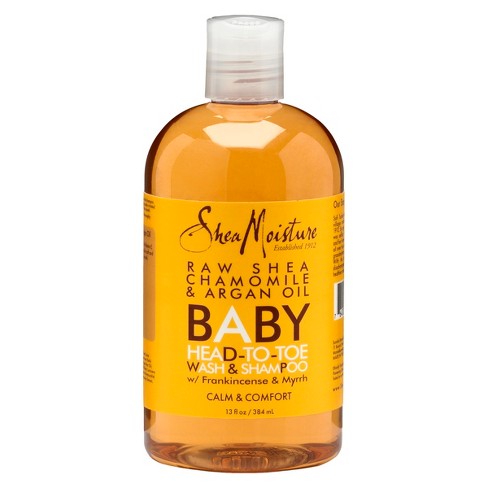 2-in-1 body wash and shampoo for a head-to-toe clean
 Free of harsh chemicals for baby's sensitive skin
 Baby body wash/shampoo is gentle for everyday use on all skin type
 All-natural ingredients moisturize, soothe and repair
This is the wash we use in our house for our littles and we completely love it for a number of reasons. It smells so good, leaves the kids' skin and hair super soft, and has been wonderful for our son's eczema. I also love that I can buy it in-store at my local Target (which, as much as I wish it were a Super Target, is not!), so it's nothing I need to wait a few days to get by ordering online.
Babyganics Baby Shampoo + Body Wash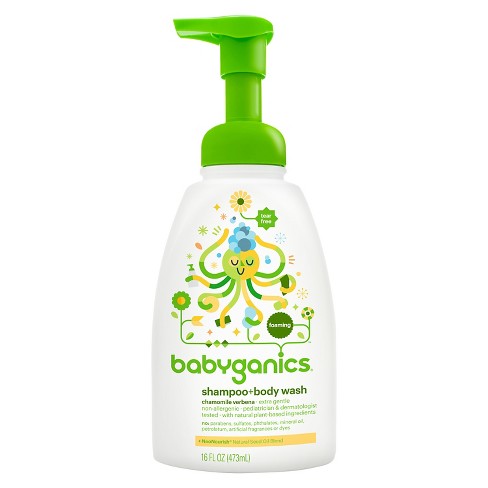 Foaming body wash is great for cleaning and keeping babies happy during bath time
Organic, dye-free, paraben-free formula perfect for baby's gentle skin and eyes
Sweet scent awakens baby's senses
Though we don't have any personal experience with this particular wash, reviewers stated the foaming aspect was something their children really loved. Some reviewers commented on its ability to keep their child's eczema at bay.
2-in-1 baby shampoo and body wash makes bath time a little easier
Paraben-free baby body wash lets you feel good about using it on your little one
Tear-free shampoo and body wash won't irritate little eyes
Cruelty-free shampoo lets you feel good about your impact
Reviewers stated this shampoo has a very nice, subtle, sweet scent. Many also commented the tear-free claims were true (some reviewers even tested this claim on their own eyes!), so if you have a little one who tends to be sensitive to that, this might be a great option for you.
Burt's Bees Baby Bee Shampoo & Wash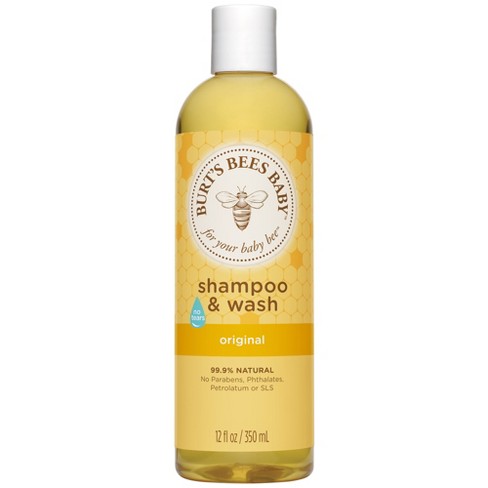 Burt's Bees baby original shampoo and wash
Tear free, plant based and pediatrician tested
Cleanses with soy proteins
Like thinkbaby, many reviewers stated "tear-free" was a very valid claim. A number of them also explained their kids with extra sensitive or eczema-prone skin were actually soothed and improved by this particular wash.
Honest Company Shampoo & Body Wash, Fragrance Free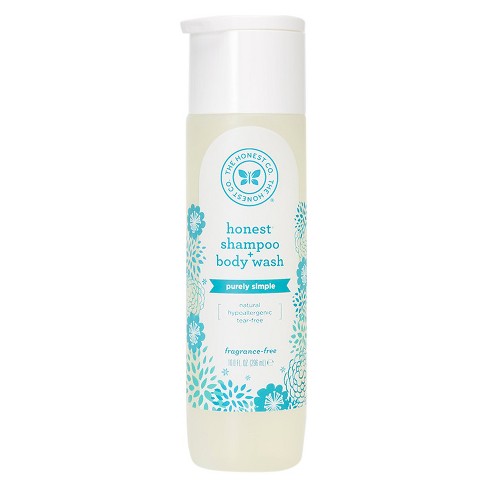 Includes a blend of aloe, chamomile and calendula known to gently soothe
Designed to be gentle – made without sulfates, phthalates, parabens, dyes and more
Formulated with a blend of coconut oil, jojoba protein and quinoa extract known to moisturize and soften skin
Designed for sensitive skin – purely simple and made without fragrances
People repeatedly commented how pleased they were with this formula because there are so few fragrance-free options out there. Other common remarks included liking the pump-style dispenser and that a little bit seemed to go a long way.
So there you have it — five great options, all for under $10.
Are you already using a non-toxic shampoo I didn't list here? Which one do you love and why?
Please follow and like us: