Warmer temperatures have finally arrived, so a top priority of mine is coming up with some awesome summer activities for kids! We live in Minnesota, and this winter was a disaster. Snowstorm after snowstorm, snow day after snow day, it seemed we'd literally never thaw out. But we did! And here we are… basking in the warm, summer sunshine we love so much.
Because we get so few months of outside time that doesn't require heavy coats, boots, hats and mittens, our kids could literally spend sun-up until sun-down outside. I love to watch their creativity and imaginations come alive on these long, summer days, where dirty faces and feet reign supreme. But sometimes, it gets down right hot outside, so we need some water activities besides your typical swimming pool or sprinkler play. Instead, here's a list of a few of my favorite water activities to keep kids occupied and cool.
Seriously, how cool is this idea as one of the awesome summer activities for kids? We are totally doing this next week! But first, I'll be sure to get one pool noodle in a different color for each child. That way, they can each "fish" for their own color (less fighting, for the win!). We got butterfly nets for all of the kids way back in February at Target, but here's a great three-pack option with telescoping handles.
Is it just my kids who love washing dolls? No? Didn't think so. What is it about washing a baby doll that is so fun for kids? Probably because they're always the ones being scrubbed squeaky clean; this puts them in charge for once! Bonus for this one: for those of us in colder climates, this can be done indoors in winter months, too!
Please tell me you are aware of the wonder that are water beads! They are so fun for kids and so therapeutic for Mom (run your hands through them a few times and tell me you're not obsessed with how they feel in your hands…). But we've never used them any way other than at room temperature, so I think I'll need to try this out and maybe even put them in our water table. (And speaking of water tables… if you don't have one, it's worth every penny! So much fun and so easy to prep for a guaranteed few hours of toddler busyness.)
I cannot WAIT to try this out on my kids! Much like giving a baby doll a bath, giving a toy truck a good clean is so fun for a kid. But how often do we give our little friends the green light to make something as muddy and dirty as possible? Never! So that's what makes this activity even better: the opportunity to make something totally filthy.
We have trucks just like these and these (great deal!) already — but if you don't, check out your local Goodwill or thrift store to pick some up you don't care about getting messy!
I know, I know: I've said this about every activity so far, but… this one I seriously can't wait for! The thing I love about this one so much is it's a total triple threat: first, you send your little one(s) out to hunt for rocks. Then, you have them paint their rocks gold. Finally, you hide the rocks in a pool or water table with sand and water. Give your small friends some sifting tools and let them pan for the gold they made! You could do this without adding water, but kids would love that "wet" element. Plus, it will also add a little higher challenge element as the water is muddied. So simple, pretty hands-off, but lots of activity-time for kids. Love it!
(Also, similar to the pool noodle fishing activity where I suggest having one color for each child, you could also let each child paint their rocks a different color and pan only for theirs).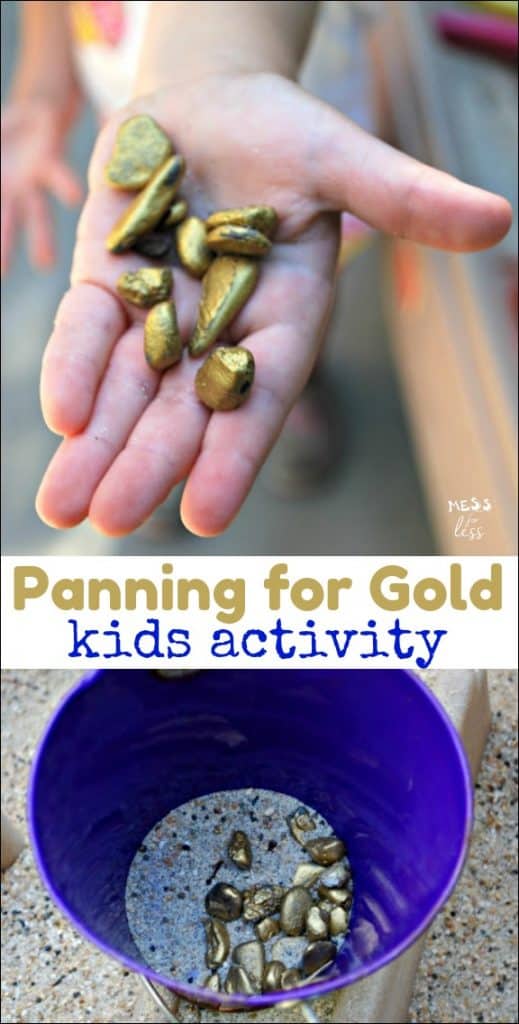 This one is an oldie but a goodie: give your kids a bucket of soapy water and all your home car washing tools and let 'em go to town! I grew up doing this with my brothers on repeat on hot summer days. There was something so satisfying about getting to use soap and scrubbing down my bike wheels. The thought of being able to make my bike even more nice, shiny and new than before was a thrill to me. So easily satisfied… ah, to be young again!
This post highlights washing a Cozy Coupe, but it doesn't have to be limited to that. Line up those bikes, Power Wheels, scooters, wagons… you could even take the opportunity to park your own car outside for a wash!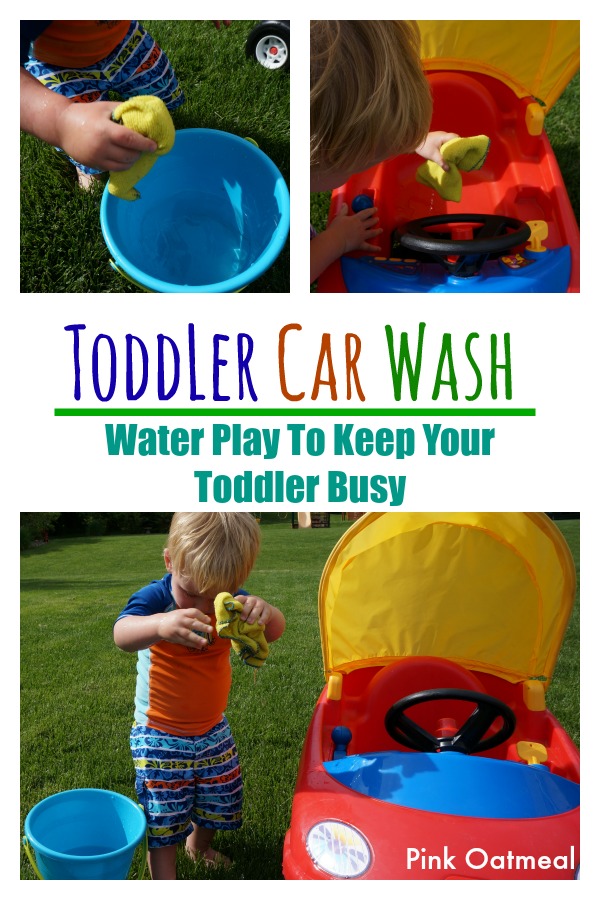 I love this activity because it encourages some fine-motor skill use. One of my twin boys could really use some practice in that arena, and the use of clothespins really offers it. The beauty of this activity is it also leaves a lot of room for pretend play, which is so fun. Sometimes all it takes is a simple but different "set-up" for them to let their imaginations run wild. It's in those times they get along best, have the most fun, and become most immersed in their play (and stay totally occupied for long periods of time!).
Are you totally ready to get outside to do one of these awesome summer activities for kids? I personally can't wait to do these with my kids — and let's be honest: the real question is, who will enjoy them more… me, or them?
Just remember before you head out into the sunshine: apply that sunscreen! It's super important. Not sure which sunscreens are the right ones to buy for your little people? Check out my post here on the best mineral sunscreens — all under $11!
What are some of your favorite ways to enjoy the summer sun with your little people? Do share! And make sure you pin these ideas for later — you don't want to forget them!
Please follow and like us: